Cà del re estate is situated in one of the most important areas of the world: THE LANGHE HILLS.
Santo Stefano Belbo is not far from Alba, the capital of the white truffle and Asti, where the famous horse racing takes place every year. This village is very well known for the writer Cesare Pavese who was born here. Most of his novels and poems are set in Santo Stefano Belbo .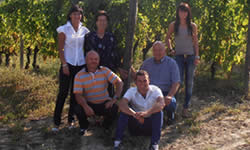 Valdivilla is situated on a hill which surrounds Santo Stefano and it is populated by little farmers who cultivate vineyards from several generations. Thanks to them, the whole world can taste a unique wine: the Moscato d'Asti.
One of them is Perrone family who owns Cà del Re estate from generations.
It has been found in the Sixties when Mario Perrone started producing wine from his vineyards. As the years went by his son Mauro started cooperating in the winery and he specialized in this field with passion and enthusiasm. In 1986 he tried to produce wine in bottles especially the Moscato d'Asti. Since that time he has done his best to improve the quality of the wines.
Mauro follows all the processes with the help of his wife Bruna and his grandparents Mario and Maria. His daughter Sabrina deals with accountancy. The last person who entered the estate is his son Fabio who attended oenology school in Alba. Fabio wants to keep on working in the business and maintain all the traditions he has acquired thanks to his family.
Cà del re is a family business and all the processes of wine-producing, from the vineyards to the finished bottle are followed by the family members. Although many processes can be mechanized, they want to avoid them to guarantee a better quality of the grapes and than obviously of the wines. From the pruning to the harvest all the operations are manual except for the spraying of products.